Press Releases
Another international architecture award won by Telekom Headquarters
Budapest, February 3, 2022 13:30
As a project of the TIBA Architect Studio, the joint headquarters of Magyar Telekom and T-Systems won the BIGSEE Architecture Award in 2022 in the category of Public and commercial architecture. Another project of TIBA Architect Studio, their own office, has earned the same recognition.
The joint headquarters of Magyar Telekom and T-Systems on Könyves Kálmán körút is the largest office building in the country, providing modern and creative work space (in covid-free times) for more than 4,000 people on 105,000 m2 and 9 levels. (In view of the current epidemic situation, Magyar Telekom and T-Systems employees are currently visiting the headquarters and other sites on a voluntary basis, with increased security measures.)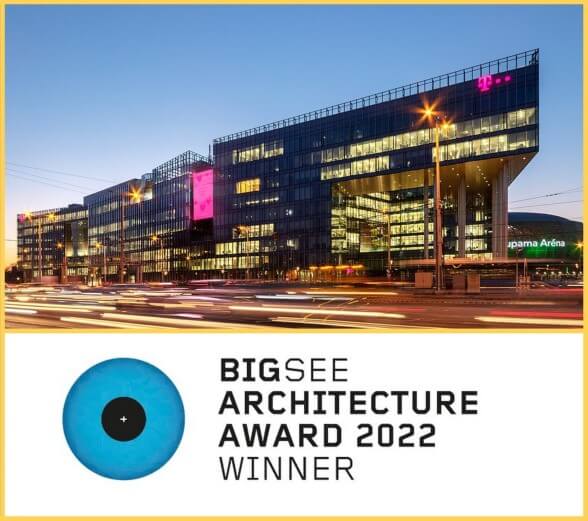 The building has two restaurants and two cafes, a car wash, bicycle storage rooms with a dressing room, an underground garage for 1365 cars and a conference room with a seating capacity of 300, for the comfort of the employees. The well-being and physical and mental health of the staff are also supported by the communal spaces on each floor, the 762 m2 fitness room on the 8th floor, the panoramic sauna and salt cabin, the 200 m rooftop running track, the health clinic and the kids' corner, where staff can bring their children and can be sure they are in a safe and fun environment.
When designing this grandiose building, Wing Zrt. as the developer, Magyar Telekom as the tenant and TIBA Építész Stúdió as the general designer paid special attention to sustainability aspects, therefore, in accordance with BREEAM Excellent expectations, the headquarters building includes energy-efficient equipment, low water consumption and recycled materials have been built in, furthermore, a selective waste collection method is in place using its own compactor. Economical operation is supported by a complex building management and energy management system. The garden features vegetation compiled by an ecologist, an artificial pond, a terrace and outdoor workplaces, and is watered by rainwater and a drilled well. But of course, modern sunscreen and acoustic glazing with individually and centrally adjustable shading cannot be missing from such a large facade surface.
Since its handover in 2018, the building has won several prestigious architectural and real estate development awards.
BIG, granting the architectural award, is a creative center in Southeast Europe based in Ljubljana. The institution aims to bring excellent creative practices closer to the public in the wider region.
Further details on the application and the prize can be found here: Hungarian Telekom and T-System Headquaters, Budapest (bigsee.eu)