Investor News
Magyar Telekom fourth quarter 2021 results
Budapest, February 23, 2022 17:30
Magyar Telekom (Reuters: MTEL.BU and Bloomberg: MTELEKOM HB, hereinafter: Company), the leading Hungarian telecommunications service provider, today reported its consolidated financial results for the fourth quarter and full year of 2021, in accordance with International Financial Reporting Standards (IFRS) as endorsed by the EU (hereinafter: quarterly financial report). The quarterly financial report contains unaudited figures for each reporting period.

Financial highlights: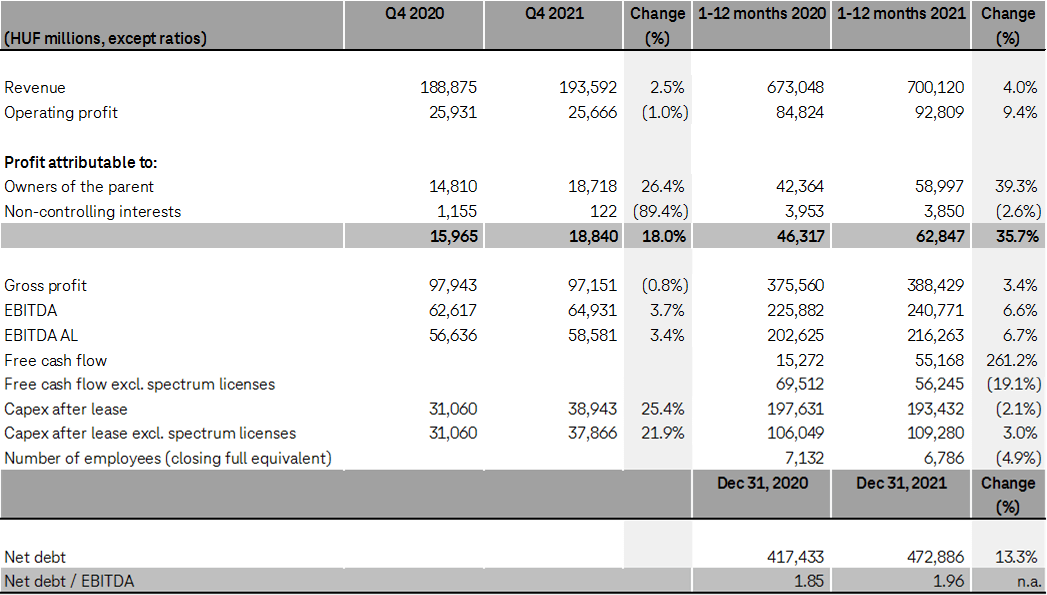 Group revenue grew by 2.5% year-on-year in Q4 2021, thanks to further increases in mobile data and fixed broadband resulting in an annual 4.0% increase in group revenues
Gross profit was moderately lower year-on-year in Q4 2021 as revenue expansion was counterbalanced by one-off bad debt impairment.
EBITDA AL was up 3.4% year-on-year Q4 2021 and 6.7% in 2021 reflecting strong market momentum coupled with efficient cost control
Capex AL excluding spectrum licenses rose strongly year-on-year in Q4 2021 mostly driven by network investments and amounted to HUF 109.3 billion in full year 2021
Free cash flow excl. spectrum licenses (i.e. without one-time spectrum license fees) amounted to HUF 56.2 billion for 2021, with year-on-year decline driven by higher investment spending and less favorable working capital developments
Magyar Telekom's Board of Directors proposes for approval to the General Meeting a total dividend payment of HUF 15.0 billion for the 2021 financial year. In addition, the Board also targets a share buyback program of up to HUF 14.6 billion which is to result in an overall shareholder remuneration of up to HUF 29.6 billion.
Operational highlights

During 2021, we managed to increase our Hungarian gigabit capable fixed network by over 440 thousand access points allowing for gigabit speed on 69% of our footprint
Average monthly mobile data consumption amongst Hungarian customers continued to rise sharply, recording again an increase of over 30% year-on-year
Mobile radio network modernization program was launched in North Macedonia as well to allow for improving quality and increasing capacity of the network and prepare for the launch of 5G services
Magyar Telekom's 'AA' ESG rating was reaffirmed at MSCI
Tibor Rékasi, Magyar Telekom CEO commented:

"Our performance in 2021 demonstrates the success with which we addressed the external challenges arising from the Covid-19 pandemic. Thanks to our efforts to respond promptly to rapidly changing consumer needs, we continued to provide enhanced quality of service and additional support to our customers throughout the year. Considerable ongoing investment in our networks has enabled Magyar Telekom to provide sought-after seamless connectivity. As a result, an increasing number of clients chose Magyar Telekom as their preferred telecommunication provider, allowing us to deliver year-on-year revenue and EBITDA AL growth of 4.0% and 6.7%, respectively, ahead of our targets for the year. Our strong investment in the business is reflected in moderately higher Capex versus our initial targets. This, coupled with temporary unfavorable working capital developments, resulted in a lower than expected free cash flow of HUF 56.2 billion.
Looking ahead, we expect to sustain this positive commercial momentum in 2022, which is likely to lead to revenue growth of 1% to 3%, with EBITDA AL growing by 3% to 5%, supported by cost control measures. Network quality remains a significant differentiator for the Company and to preserve this, we intend to maintain the steady pace of our fiber roll-out and mobile network modernization program. As a result, investment levels are expected to remain broadly stable year-on-year. Free cash flow, excluding spectrum license payments, is forecast to increase to at least HUF 70 billion in 2022, thanks to positive trends in EBITDA AL and working capital."

This investor news contains forward-looking statements. Statements that are not historical facts, including statements about our beliefs and expectations, are forward-looking statements. These statements are based on current plans, estimates and projections, and therefore should not have undue reliance placed upon them. Forward-looking statements speak only as of the date they are made, and we undertake no obligation to update publicly any of them in light of new information or future events.
Forward-looking statements involve inherent risks and uncertainties. We caution you that a number of important factors could cause actual results to differ materially from those contained in any forward-looking statement. Such factors are described in, among other things, our annual financial statements for the year ended December 31, 2020, available on our website at http://www.telekom.huwhich have been prepared in accordance with International Financial Reporting Standards ("IFRS") as issued by the International Accounting Standards Board ("IASB") and adopted by the European Union.
.