Investor News
Magyar Telekom second quarter 2022 results
Budapest, August 9, 2022 17:30
Magyar Telekom (Reuters: MTEL.BU and Bloomberg: MTELEKOM HB), the leading Hungarian telecommunications service provider, today reported its consolidated financial results for the second quarter and first half of 2022, in accordance with International Financial Reporting Standards (IFRS) as endorsed by the EU (hereinafter: half-year report). The half-year report contains unaudited figures for each reporting period.

Financial highlights: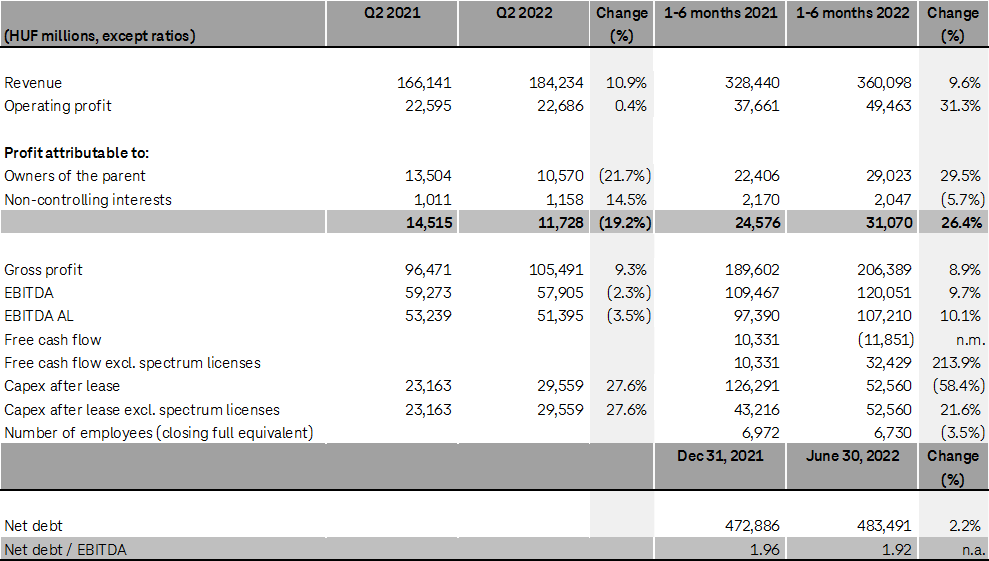 Group revenue grew by 10.9% year-on-year in Q2 2022, mainly due to continued strong demand for mobile data, high bandwidth broadband packages and mobile equipment in both countries of operation
Gross profit improved in line with revenue expansion, growing by 9.3% year-on-year in Q2 2022
Supplementary telecommunication tax, recently imposed by the Government of Hungary on the actual annual net sales of electronic telecommunication services was booked in the amount of HUF 12.4 billion in Q2 2022, in relation to revenue generated during the first six months of 2022
EBITDA AL declined by 3.5% year-on-year to HUF 51.4 billion in Q2 2022, as the improvement in gross profit was offset by the supplementary telecommunication tax
Capex AL excluding spectrum licenses rose to HUF 52.6 billion in the first six months of 2022, driven primarily by the accelerated mobile network modernization in both countries of operation and strong pace of fiber roll-out in Hungary
Free cash flow, excluding spectrum license fees, amounted to HUF 32.4 billion in the first six months of 2022, improving by HUF 21.1 billion year-on-year; the positive underlying results coupled with one-off cash inflow from the sale of Pan-Inform LLC offset higher income tax payment settlements and losses incurred due to the weakening of the forint, whilst payment of the new supplementary telecommunication tax will be due only in Q4 2022.
Payment of HUF 44.3 billion related to the acquisition of 900 MHz and 1800 MHz frequency bands was made at the beginning of April 2022, increasing payments for other liability, and as such reducing overall free cash flow to a negative HUF 11.9 billion for the first six months of 2022
Operational highlights

Strong focus on investment in fixed and mobile networks, vital to maintaining superior customer experience, continued in both countries of operation with accelerated fiber roll-out and RAN modernization and the switch-off of Hungarian 3G service allowing for more efficient frequency and energy utilization
Customer base expansion in Hungary continued into Q2 2022: fixed broadband subscriptions rose by 7.3%, TV customers increased by 6.1% while the mobile postpaid SIM base rose by 5.1% year-on-year
Hungarian fiber network penetration continued to rise in parallel with the expansion of the coverage; the number of fiber customers rose by 27% year-on-year by the end of June 2022
Growth in mobile data usage was sustained with average monthly usage reaching 9.1 GB in Q2 2022
Tibor Rékasi, Magyar Telekom CEO commented:

"Magyar Telekom maintained positive momentum into the second quarter despite strongly increasing macroeconomic pressure. We leveraged our superior customer experience and focus on investment into our fixed and mobile networks to meet continued strong demand for mobile data, broadband and TV services. The retirement of our 3G network was an important event in our transition from legacy technology towards more energy efficient infrastructure, and allowing the Group to increase throughput capacities by redeploying relevant frequency bands to deliver 4G and 5G services. Our operational achievements are reflected in year-on-year revenue growth of 10.9% and gross profit growth of 9.3% in Q2 2022.
The supplementary telecommunication tax levied by the Hungarian Government affected our profitability, reducing H1 2022 EBITDA AL by around 10%. For the second quarter the impact on EBITDA AL was even stronger, supplementary telecommunication tax reduced EBITDA AL by 19% resulting in 3.5% year-on-year decrease of our profitability.
Looking ahead, we expect the inflationary environment and the weakening of the forint to put increasing pressure on our costs, while a potential economic downturn could negatively impact our top line performance. Yet we remain committed to focusing on the delivery of our strategic objectives in line with the guidance modified following announcement on supplementary telecommunication tax."

This investor news contains forward-looking statements. Statements that are not historical facts, including statements about our beliefs and expectations, are forward-looking statements. These statements are based on current plans, estimates and projections, and therefore should not have undue reliance placed upon them. Forward-looking statements speak only as of the date they are made, and we undertake no obligation to update publicly any of them in light of new information or future events.
Forward-looking statements involve inherent risks and uncertainties. We caution you that a number of important factors could cause actual results to differ materially from those contained in any forward-looking statement. Such factors are described in, among other things, our annual financial statements for the year ended December 31, 2021, available on our website at http://www.telekom.huwhich have been prepared in accordance with International Financial Reporting Standards ("IFRS") as issued by the International Accounting Standards Board ("IASB") and adopted by the European Union.
.